According to a report buy the Oklahoman, Kevin Durant's agents, brothers Aaron and Eric Goodwin, made a connection with Reggie Love, Obama's special assistant and personal aide, to get Durant an exclusive invitation to shoot hoops with the president. And it worked! The visit occurred on Sept. 18, but Durant did not publicize the event.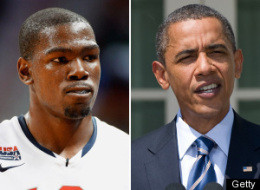 B-ball friends
"It was a good feeling to meet the president," Durant said, according to The Oklahoman. "Of course I always wanted to do that. Me being from D.C., it was pretty cool to see him. I was excited to get that opportunity. It's something I'm always going to remember."
Durant didn't hog his face time with Obama for himself. He invited his mother and his grandmother and Thunder teammates Eric Maynor and James Harden.
Kevin Durant is chillin

"She's been in D.C. for 60 years and never got to meet the president," Durant said of bringing his grandmother to the White House, according to the report. "Now we have the first African-American president, and that felt good for me to give her that opportunity."
Are you surprised? He didn't put it on twitter?!